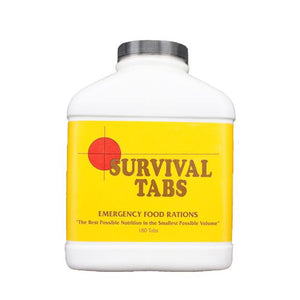 Gluten Free Survival Food
Each container includes 180 tablets (approximately 3600 total calories).  This is the only feasible gluten free survival food rations available on the market and we are proud to offer them in our kits and for sale individually.
Features and Benefits
Serving size is 12 tabs/meal (240 calories approx/meal)
Gluten Free
Nutrient Dense Food Concentrate. High in Vitamins, Vegetable Blend Base. 
Highly Nutritious. Packed for long term -- 25 year shelf life unopened! Up to 1 year shelf life opened.
Avoid temperatures 120 degrees F. & up. Store cool, dry and dark, if possible. 60 degrees F. is optimal.