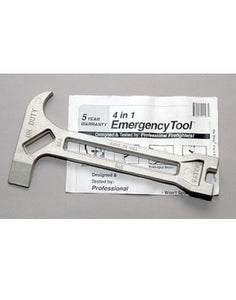 4 in 1 Emergency Tool
This 4 in 1 emergency tool allows you to shut off the gas and water.  It can also be used for prying and digging.
5 Year Warranty 

Tough Heat Treated Alloy

Won't Spark

Wont Rust

Made in U.S.A.
Designed & Tested by: Professional Firefighters!
Safety Tips: 
Check for proper fit on the valves you intend to shut off during an emergency.

Most gas and water shut off valves requre 1/4 

Always wear proper safety equipment when using tool.
Caution: 
If for any reason your gas has been shut off, Do not turn it back on.  All Pilot lights must be re-lit.  Contact your local Gas Co. for assistance.