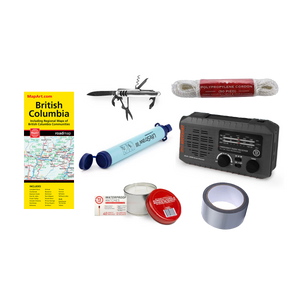 Shared Supplies (1 per household)
Our Shared Supplies Add-On is based on the recommendations provided by the Province of BC and Government of Canada. This kit contains the supplies listed below. We recommend only one Shared Supplies Add-On per household as the supplies can be shared amongst multiple family members. If you are a 1 person household, you will still want to purchase this add-on to top up your kit and have all the government recommended items on hand in case of emergency.
*IMPORTANT*
We also offer a Personal Supplies Kit that contains all the additional recommended supplies for each individual person. We recommend one Personal Supplies Kit per person in your household. 
SHARED SUPPLIES ADD-ON CONTAINS
CRUSADER ONE NOAA Flashlight Analog Radio (watch video below)
LifeStraw Water Filter (Filters 1000 L of Water)


Roll of Duct Tape

Three Wick 36HR Emergency Candles

Waterproof Matches

Multi-tool Pocket Knife (7 Stainless Steel Tools)

50ft Nylon Utility Cord

British Columbia Road Map
72HRS CRUSADER ONE NOAA Flashlight Analog Radio
LIKE THIS PRODUCT?  SPREAD THE WORD!